This here is a tattoo lip tint! You apply it on, wait a few minutes for it to dry, and then peel it off. It's a fun little gimmick, but it has its disadvantages. It's a little frustrating to use at first and you burn through a lot of product. That aside, the tint itself is nice. It's vivid and has good lasting power.


Brand: The Saem
Name: Saemmul Wrapping Tint
Color: OR01 Sweet Orange
Amount: 15g
Actual Weight: 21g
Price in Korea: 5,000₩




It comes as a little tube wrapped in plastic, although I've taken the plastic off here:
front:



back:



applicator tip: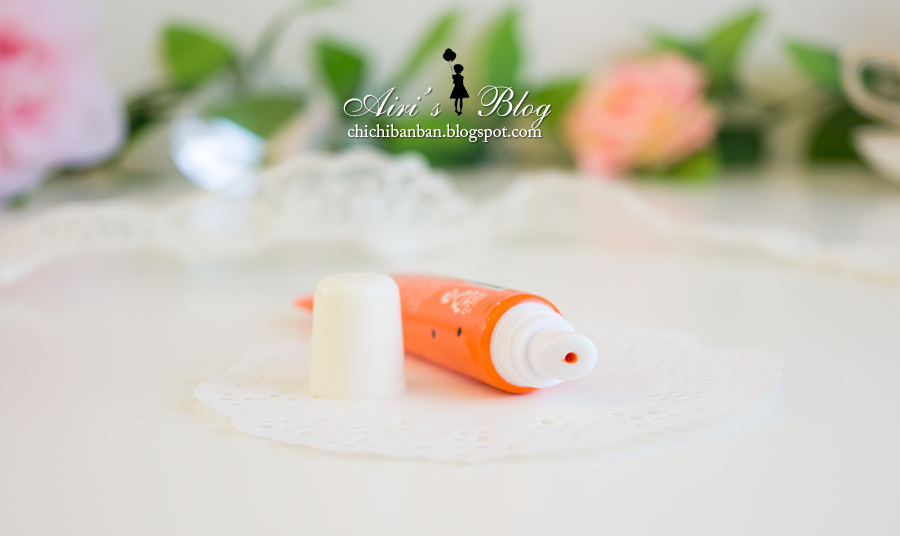 I recommend storing it with the cap facing up. The product is runny and tends to spill out the first few times (then becoming unsalvageable, since it hardens almost immediately.)
1. When you first squeeze it out, it's a thick, gooey liquid.
2. It starts drying almost immediately. It gets sticky, and during this time your lips are basically glued together.
3. After 8-10 minutes, it dries completely and the edges start peeling off.
4. You then peel it off, and you're left with nothing but color.
Here's a hand demonstration:
Here's how it looks on my lips. In the second photo you can see the edges peeling off and get an idea of how sticky it is:

(We'll talk about why it's so messy in a bit!)
Lastly, here is the "skin" that you peel off: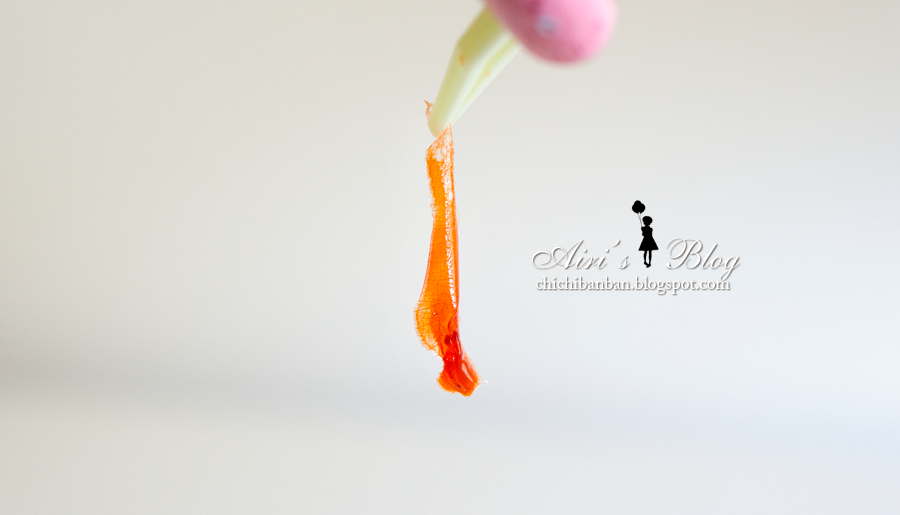 My lips are a pale, ashy pink. If I apply a thick layer, my lips become a vivid, warm-toned, almost reddish orange. If I apply a thin layer, the orange is less obvious—it's there, but natural enough to just pass as healthy lips.
Here I am with a thick layer:

As you can see, there's also a bit of a gradient when I apply it. It's darkest in the center where my lip calluses are and lightest towards the edges. I'm not sure why it does that (since I apply it evenly), but it always happens to me with this product. \_(ツ)_/
Here are some more pictures of me wearing it: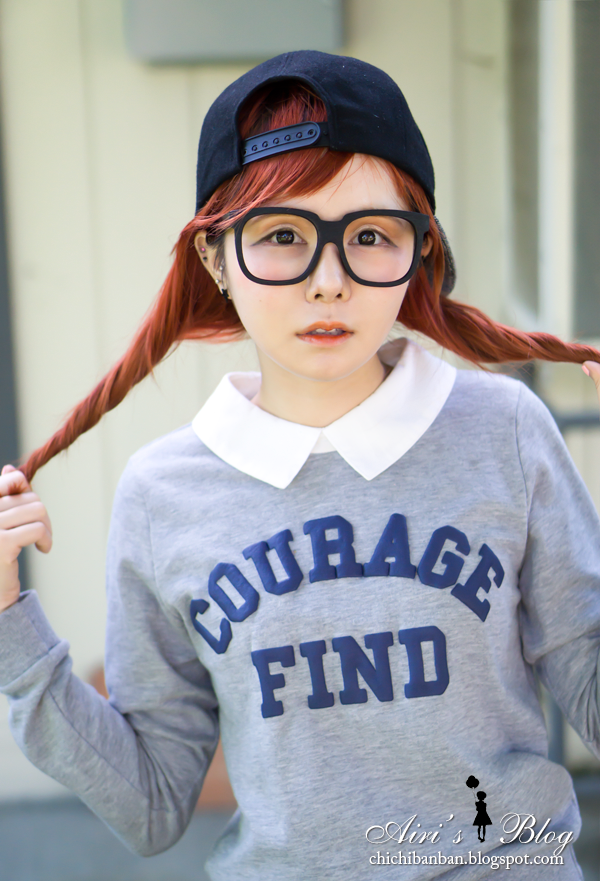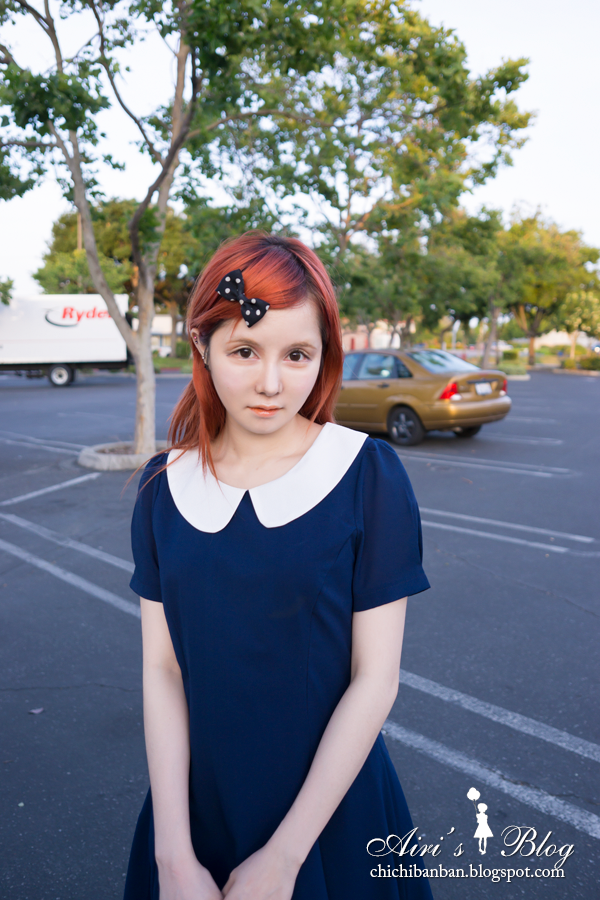 It lasts well through water and food:

In my experience, drinking water does not fade the tint—at least, not appreciably. It does fade a little with food, but it also depends on how heavy the meal is and how much I am wiping my lips. Generally, the orange color is still there, but it's not obvious.

Here's where it can get a bit impractical, and even a bit frustrating: It's messy.
It's messy because of the applicator tip. This type of tip tends to be imprecise in general, but with this product, you're also adding the fact that it starts drying immediately.
In other words, as
soon
as the product leaves the tube, it starts drying up. It becomes sticky and tacky. So if you dare try to go back and spread it out or apply more, the product that was already applied will tug and stick to the applicator. And now that it's stuck on the applicator instead of your lips, you
really
have to go back and apply more. Problem is, that buildup on the applicator will cause even
more
stickiness and interference with your application.
messy applicator buildup—all that goop is super sticky, by the way!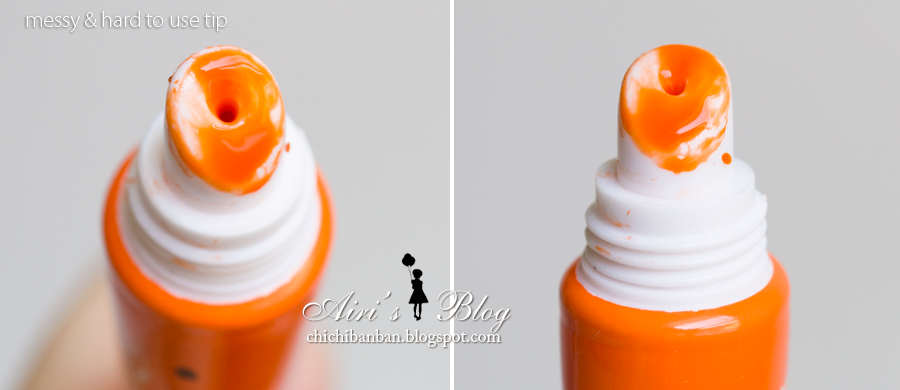 Basically, the more you try to apply, the more builds up on the applicator. The more that builds up on the applicator, the messier it becomes. And to overcome this, you find yourself squeezing out a ton of product in order to glide over the previous, sticky layers. Can you see why it's annoying?
Now, don't fret entirely! There are 3 ways to overcome this:
1. Use a lip brush. Clean and easy.
2. Apply everything in one swoop. Apply in thick layers and don't go back to smoothen anything out.
3. Don't worry, because it actually doesn't matter too much. I find that when I peel it off, the colors on the edge are faint and blurry anyways. This goes back to the gradient thing I mentioned above!
Long story short:
It's not impossible, but it can be frustrating at first. Although I will say that I still find myself using a lot of product each time, even with practice. (Whereas in comparison, traditional lip tints just require a few dabs here and there.)
I like it! Though I will be honest, I didn't like it at first. It was messy and annoying to have my lips glued together for so long. But I've since gotten used to it, and I can now enjoy it for its vivid color and lasting power.
Nevertheless, due to practicality reasons (the fact that you can't apply this in a jiffy or touch up on the go, plus the fact that you burn through so much product), I do not consider this a long-term option for a good lip tint.
Do I like it?
Yes.
Would I buy it again?
No.
Would I recommend it?
Sure, it doesn't hurt to try! It is a nice lip tint and a fun experience (sort of); it's just not practical in the long run. That's my opinion, at least!
Thanks for reading!